I saw a lady at the bus stop wearing a skirt with a wide godet at the back instead of a vent or a kick pleat and wanted to copy the idea for the nearly 17-year-old's next skirt. It was a pinstripe black pencil skirt, calf length with a button tab over the vertical godet seam. Elegant.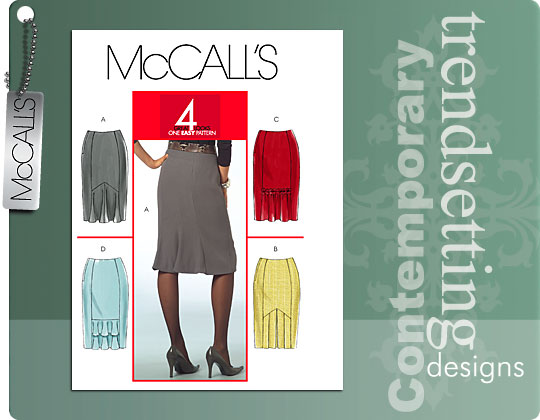 McCall's 5523
A bit like the red one.
My nearly 17-year-old is a size 6 English size so, I feel we are probably better off making clothes rather than buying then adjusting them. I am trying to make myself one out of a cheap 'n nasty green synthetic uniform type material first, to see if can and what mistakes to avoid on the real one!.
I would show it to you 'cause I took a pic and it's somewhere on this lappy but I don't know how to up or download things effectively. Yet.
I'll be using an old Husqvarna Viking 3010 sewing machine I bought from an Italian man in Tooting market years ago. It does 3 stitches (straight, zigzag and triple zigzag) and that's all I need for most things. Of course My Ideal Machine right now would be a Silver Viscount from Coopers, anything from a 140 model and up to a 9500E. Who cant dream? That dream could change!
MY MACHINES
Singer 631G on loan to a nice lady
Only had her for a while New Home 314
My not quite right Singer 27K
Husqvarna Viking 3010 the day I moved into the then 16-year-old's old room. It is the same space as in the 1st pic.
(Yes! I downloaded/uploaded pictures; go me!)
I mentioned the Husqvarna Viking 3010.
A few weeks ago I bought a 1904 Singer 27 hand crank that would crank but not move the needle bar one iota, just to see if I could get it working and much to my astonishment, I got it working! I know! I had a lot of help from someone called Stacy from Shade Tree Singer machine repair blog.
I also got help from this site.
They gave me advice on oiling, cleaning, taking apart and putting back together again. The tension is still poor and I cant get the foot off but I'm still working on it!
I have a Singer 631G that someone has borrowed long term. She needed it a lot more than me.
My sister gave the then 15-year-old a used Brother PS 55 that only worked in reverse. She still managed to make herself a dress for her 'O' level Art and Design course. It sews very well now that I've taken it apart and fixed the reverse only thing. It wont sew backward now but The Sister wants it back.
I have a Pfaff Creative 1475 CD that hates me and that I cant take apart to fix the tension problem it is having! Cant bear to part with her though. I bought her when the 22 year old was 5-months old (Yeah! Named her!) Her name (machine, not daughter), is Cuthbert. I know!
BTW, I just last week, sold a New Home 314 model machine. Not many stitches but boy, did she sew! She was called Norris.
I want to get my hands on a treadle one day. Boy will I make the 17-year-old cross! There really is no room for treadle in this small flat. Maybe if I just move the old bookshelf across............